Congestion is an application to help you send a payment SMS text message to pay the London Congestion Charge. To use the SMS text message payment service, you must register with Transport for London (TfL) for Fast Track. You may do this by visiting www.cclondon.com and following the link to 'register online' or by calling 0845 900 1234 and asking to register for a Fast Track account and the SMS payment service.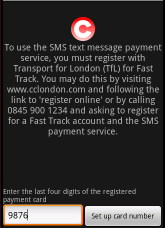 Once you are registered with TfL, you need to enter just the last four digits of the payment card and press the 'Set up card number' button. These are stored by the Congestion application as they are needed everytime the SMS text message is sent. If you change the registered card with TfL, you will need to update the Congestion application as well. The current number is displayed next to the 'pay' button.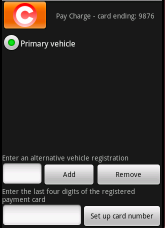 You are now ready to send a payment SMS text message, which you do by just pressing the 'pay' button. This will request payment of the charge for the current day for the primary vehicle as registered with TfL.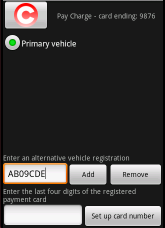 If you have more than one vehicle for which you wish to request payment of the charge, you need to have registered this option with TfL.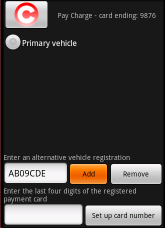 You can then enter the alternative vehicle registration numbers and add them to the list of possible vehicles by pressing the 'Add' button.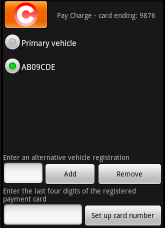 To send a payment SMS text message for an alternate vehicle, ensure that the vehicle is selected, then just press the 'pay' button.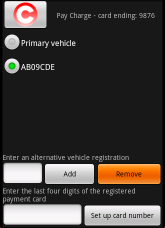 If you make a mistake, or no longer want to include a vehicle in your list, you can simply select the vehicle registration and press the 'Remove' button.